Makro Kruzer Metal Detectors have proven to be deep seeking metal detectors even in highly mineralized ground!
1

.

Rated IP68

: Fully submersible up to 5 meter (16.4 feet) and protected from total dust ingress!


2

.

Excellent Discrimination and Unmasking Ability!

: Find treasure where other detectors are blinded by trash!


3

. Advanced Beach Mode: Very stable in dry sand, wet salt sand and underwater!


4

.

E.U.D. Boost Mode

=

E

xtra

U

nderground

D

epth


5

.

Ultra Fast Phase Recovery Speed!

Find items in discrimination others miss because of slower recovery speed.


6

.

Select Target ID Depth Level!

Adjusts the depth level that the detector displays on the ID for a detected target.


7

.

6 Search Modes :

All Metal, 2 Tone, 3 Tone, 4 Tone, Beach, Deep


8

.

2.4 GHz Wireless Headphones:

with "0" lag-time! (wireless headphones are for land hunting)


9

.

Online Firmware Updates!

Stay-Up-To-Date with your detector with USB computer!


10

.

Target

(((VIBRATION)))

for headphone-free underwater detecting!


11

.

Lightweight

: 3.0 pounds!


12

.

Built In Lipo Battery!

Charge from USB powerbank or with supplied charger! Up to 19 hours per charge!


The Makro Kruzer Detectors are in High Demand and the supply is limited. Please call for availability
and special in store pricing.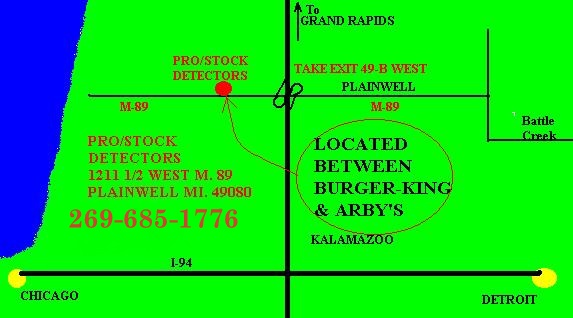 Ace 150, Ace 250, Ace 350, Ace 300, Ace 400, AT Gold, AT Pro, ATX, Automatic Ground Cancel, Automatic Ground Erase, Automatic Graound Trac, Gold Pan, Sluice Box, Keene, Gold Wheel, DD coil, Whites, Fisher, F-75, Pro Pointer, Beach Digger, Beach Scoop, Aquanaut, 1280 X, Fisher F-2, Gemini III, Fisher Gold Bug, Fisher F4, Fisher F5, Fisher F70, Fisher CZ-21, White's Spectrum, White's Eagle, White's V3I, White's VX3, White's MXT, White's MXT PRO, Whites V3, White's Coinmaster, Whites Coinmaster Pro, Whites Coinmaster GT, Whites MX5, White's Goldmaster, White's GMT, Whites GMZ, White's TDI, White's Pulse Scan, White's M6, White's TM 808, White's Treasuremaster, White's Surfmaster, Whites Surfmaster Dual Field, White's Surfmaster PI, Whites BeachHunter ID, White's Sierra Madre, Whites ULA-3, White's PRL-1, White's PCL 600, Whites SpectraScan Handheld, Weapons Detector, Pin Pointer, Whites Bullseye, Eclipse Search Coil, Shooter Coil, Nuggett Shooter, Super 12 coil, D2 coil, Prostar Headphone, Pro Star Headphone, Starlite Headphones, Metal Detector, Metal Detector Hardcase, Carry Bag, Detector, Garrett Pro Pointer, Garrett Propointer, Teknetics Metal Detector, Teknetics Omega, Omega 8000, Teknetics Gamma, Teknetics Gamma 6000, Delta 4000, Alpha 2000, Teknetics T2, Teknetics G-2 G2, VCO, Pinpoint, Gold Pick, Lesche Knife, Lesche Ground Shark, Relic Shovel, Gold Pick, Rock Pick, Weather Cover, Coil Cover, Search Coils, Used Metal Detector, Used Metal Detectors, CoPlaner Search Coil, Biaxial Search Coil, Concentric Search Coil, Spider Coil, Dual Field Coil, Mono Aussie Coil, Pulse, 9.5 Coil , Goldmax, Blue Max, Prizm, Battery Holder, Battery Clip, Rechargable Battery, Nicad, NiCad Battery, Battery Charger, NiMH Battery, Battery Pack, Sawtooth Digger, Sand Scoop, Beach Scoop, Water Scoop, Mesh Classifier, Coin Probe, Treasure Apron, Aluminum Sand Scoop, Plastic Sand Scoop, Stainless Sand Scoop, XP Metal Detectors, Deus Metal Detector , Wireless Metal Detector, Treasure Maps, Treasure Books, Buried Treasure, Gold and Silver, Coin Hunting, Relic Hunting, Ghost Towns, Tesoro Metal Detectors, Tesoro Tejon, Tesoro DeLeon, Tesoro Golden U-Max, U-Max, Tesoro Golden Saber, Tesoro Cortes, Tesoro Vaquero, Tesoro Outlaw, Tesoro Cibola, Tesoro Tiger Shark, Tesoro Sand Shark, Tesoro Lobo, Tesoro Lobo Super Traq, Tesoro Silver Saber, Tesoro Silver U-max, Tesoro Compadre, Tesoro Amigo, SunSpot Scoop, Sun Spot Scoop, Bounty Hunter Metal Detectors, Bounty Hunter Junior, VLF, VLF 2.1, Gold Digger, Fast Tracker, Tracker IV, Commando, Quick Silver, Lone Star, Quick Draw II, Rock Tumblers, Lortone Tumbler, Model 3A, 33B, Falcon MD20 Nugget Hunter, Falcon Prospecting Detector, Keene Gold Pans, Keene Spiral Concentrator Wheel, Blue Bowl, Gold Concentrating Bowl, Keene Classifying Sieves, Keene Hydro Air, Keene HydroAir, Battery Powered Diving, Hookah Diving, Gold Magnet, Gold Bottles, Gold Snifter Bottle, Pocket Gold Scale, Detector Pro Pirate, Detector Pro Pirate Pro, Gray Ghost Headphones, Black Widow Headphones, Gray Ghost Underwater, Jolly Rogers, Rattler, Nugget Buster, Minelab Metal Detectors, Minelab CTX 3030, Minelab E-Trac, Minelab Excalibur II, Excalibur 800. Excalibur 1000, Sovereign, Sovereign GT , X-Terra 305, X-Terra 505, X-Terra 705, X-Terra 705 Gold Pack, Explorer XS, Explorer SE Pro, Eureka Gold, GPX 5000, Vflex, BBS, FBS, VLF, MPS, 3&1 digger, Blue Badger, Sierra Mesh Apron, Whites TRX pinpointer, Teknetics Eurotek, Teknetics Eurotek Pro, Used Metal Detector, Rock Tools, Gold Pick, Rock Pick, Detector Bag, Padded Detector Bag, Rock Hammer, Rock Chisel, Estwing Geo Pick Keene Crevice Sucker, Bulb Snifter, Gad Pry Bar, Pick Mattock, SunRay, Sun Ray, Sun Ray Pro Headphones, Sun Ray Target Probe, Sun Ray In-Line Probe, Western and Eastern Treasures Magazine, Lost Treasure Magazine, AT Max, MX Sport, Makro Racer, Makro Kruzer, Makro Multi Kruizer.